today i'm linking up to
carissa's
miscellany monday!
:)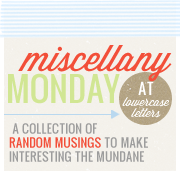 1.
my aggies won this weekend! GIG EM, AGS! we were tempted to wake up at 4 am our time to watch the espn.com play by play, but of course, that didn't happen.
2.

this weekend i worked, snorkeled & ate a LOT, saw a sea turtle, and got a nice little sunburn on my tummy that hasn't seen sun in a lonnnnng time.
3.

i keep ordering things online and having them sent to my parents house in texas. it doesn't make sense but for some reason, knowing that i will have fabric, a giveaway prize box,
a sewing pattern
, and some
lisa leonard
goodies waiting for me makes me so happy. :)
4.

it's labor day, huh? that doesn't mean anything here...but i wish it did because i have a nasty cold and i just want to sleep & lounge.
6.
we got a package in the mail today of all kinds of goodies. coffee, goldfish, SIX magazines, starbursts, ranch dressing packets....and the kicker: our favorite volcano candle from anthro. NOW this place feels AND smells like home! thanks mandy & daryl!
love.